Grant Lester – Associate Pastor for Children and Families
Grant is married to Paula.  They have 3 daughters; Hazel, Audrey & Harriett.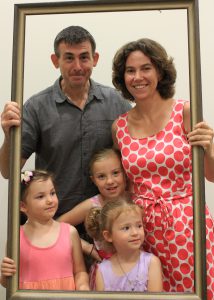 Grant worked as a Plumber and Project Manager for 16 years.  During this time, he served as a mobile mission maintenance worker in a number of churches and mission organisations by providing practical assistance.
Grant has recently moved back to Victoria from Townsville where he was serving in a church working with long-term unemployed people.
Currently he is continuing a course of study at Melbourne School of Theology, after completing his Diploma of Theology and Ministry.
Grant enjoys riding his bicycle and feeling the wind in his hair, and occasionally shouts whee when going down hills.
You may contact Grant grant@beaconsfieldbaptist.com.au or 0421 603 394
Rod Thearle – Associate Pastor for Youth and Young Adults
Rod and his wife Mez moved to Melbourne from the north side of Sydney in early 2016 – but don't hold that against them.
They love people and building relationships, dream of renovating their own house, and are keen to see people find purpose and meaning in Jesus.
Rod worked as the Youth Pastor at their church in Sydney for 5 years while also helping oversee music and the evening service. He has completed a Diploma of Theology and is currently completing his Bachelor at Melbourne School of Theology.
You may contact Rod rod@beaconsfieldbaptist.com.au or 0423 498 019
Senior Pastor – currently vacant
Office and Administration
For administrative matters, please phone Heather at the Church Office on (03) 9707 0777 or email info@beaconsfieldbaptist.com.au
For Website issues, email webmaster@beaconsfieldbaptist.com.au